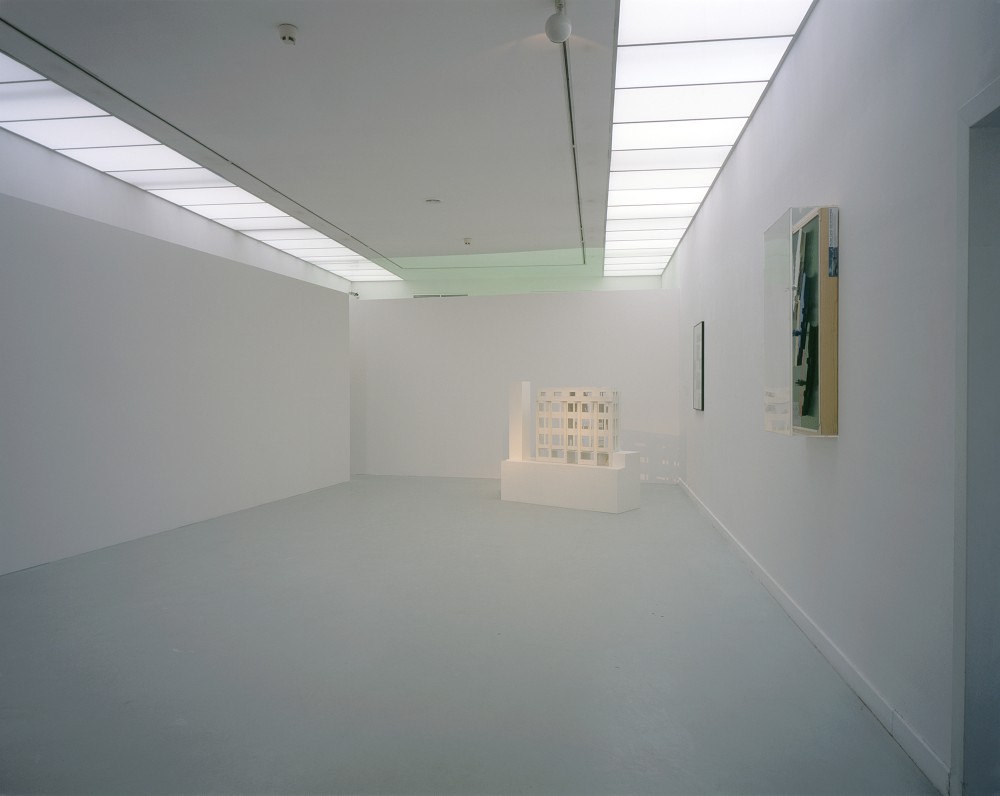 2007
Installation with wood, plasterplate, paint, vinyl wall text, manipulated museum lighting, paraphernalia from the artist's studio and a selection of works from the M HKA collection.
Two newly constructed drywalls were added to the exhibition space in relation to a new hanging of works selected from the museum's collection. The drywalls were installed in relation to these works (Office Baroque by Gordon Matta-Clark and Mobile Medium University by Luc Deleu), but were not used as the physical supports for them. Before even entering this room the viewer would first encounter the title One Divided By Two Equals Three, and then the titles of the Matta-Clark and Deleu works, separated from the artefacts to which they refer. As well as establishing an authorial disjunction in the attribution and display of the works, the piece also makes reference to Matta-Clark's Office Baroque as an institutional, conceptual and personal 'cornerstone'. The newly built walls serve to divide the space and the work as a whole into its constituent authorial zones. Each of these three zones are signified by different types of lighting (daylight, strip-lights and more theatrical spotlights) gently equating to the strata of authorship in the work. These lighting conditions are registered in the work's documentation by means of analogue photography; where the disrupted flow of light into the photographic emulsion is concurrent to the spatial disruption imposed on the viewer and the historical disruption caused by the work's curatorial intervention.

Thanks to Lara Lambreghts, Hughe Lanoote, Sofie Vermeiren and Dieter Roelstraete.